29 March 2012
3 of our students (F.5 Lau Kin Yu, Jong Ming Yan & F.4 To Ching) have successfully selected as the 20 Finalists, from 3350 participants of 31 H.K. schools, to enter the Final Selection of the "2012 Youth Difference Makers Award (YMDA)"
本校三位同學 (中五級劉健宇、莊明欣、中四級杜靜) 從來自31所學校3350位參加者中脫穎而出, 獲選為最後20名進入《2012青少年動感人•人感動大獎》最後評審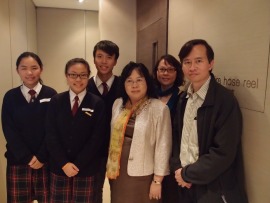 To encourage students to develop an attitude and a habit of making a difference in the lives of others, to lead a more meaningful and fulfilled life, our students took part in the "Youth Difference Makers Award" as from April 2011. A whole-school approach was adopted for this most meaningful activity, we have more than 850 students working on developing individual Difference Maker Action Plan in the summer of 2011 with a YDMA Kick-off Ceremony held on 12th December 2012 at our School.
2011.12.12
Kick-off Ceremony of the Youth Difference Makers Award (YMDA) at SCGMC
《青少年動感人•人感動》大獎啟動典禮在青川
Students have to implement the planst between July to December 2011. In February 2012, the school nominated our three best projects from the Reflective Reports submitted. It was told that there were altogether 3350 students from 31 schools enrolled to the Award (7 Primary, 23 Secondary, 1 Through-train including Special School and International School). Altogether 44 projects were submitted for central selection in the Semi-final. As the result, 20 projects were selected by Organizing Committee for the Final Selection by High Level Panel of Judges (6 in Primary, 13 in Secondary & 1 in Through-train).
To our greatest delight, the 3 proposals from our school (F.5 Lau Kin Yu, Jong Ming Yan & To Ching) (中五級劉健宇、莊明欣、杜靜同學) were among the 20 projects selected for the Final Selection on 29th March, 2012. Also, it is indeed our honour to be selected and have the great chance to meet the renowned High Level of Judges. They are:
Mrs. Cherry Tse, JP, Permanent Secretary for Education, EDB
Mr. Charles Yang, JP, Director and Chairman of Allocations Committee, The Community Chest
Ms. Kitty So, Kitty So & Tong Solicitors
Ms. Ella Lau, Director, HK Spinal Cord Injury Fund, Chair, YDMA Organizing Committee
Mr. Chow Chi Ming, Vice Chair, Direction Assn. for the Handicapped
Rev. Dr. Alfred Deignan, SJ, Council Chair, HKIIEL
Mr. Anthony Chan, MH, Chief Commissioner, Scout Association. of HK
Mrs. Amy Wong, Hon. Secretary, HK Girl Guides Association
We really appreciate the outstanding performance of our 3 students in the interview. A proven example showing students of SCGMC are all-rounder who do have great experience and genuine interests in serving and be Difference Makers. By precepts and examples, they strive hard to sustain their 'make-a-difference' initiatives. Our students really have done a good job and we are proud of them.
The professional adjudicating team will select 10 YDMA Awardees from the 20 outstanding projects. The Organizing Committee will be organizing a Press Conference cum Award Presentation Ceremony in the afternoon of Thursday, 26 April, 2012.