2 September 2013
School Re-opening Day — An EMI School with a Burning Desire to Upgrade Hardware and Software to Nurture all-rounders
開學日 --- 東華青川成為一所英文中學及孕育傑出學生的搖籃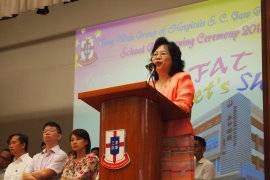 A School Re-opening Day was held on 2nd September, 2013.All students and teachers gathered at the school hall to attend the ceremony. The opening speech was presented by our Principal, Ms Agnes Tan.She expressed her greatpleasureto welcome all of us, in particular the S1 newcomers. She encouraged them to work
hard and ensured that all our teachers would provide them with unlimited support.
She then introduced to us our new teachers,Mr. Leung, Ms. Cheung, Ms. Yeung and Mr. Lee. She told us the result of our S6 students in HKDSE and the remarkable performance of students during the last year and the summer holiday. She encouraged all our students to improve their English which is one of our secondSchool Major Concerns this year and reminded us all our school yearly theme of this year is "Forgiveness", "Appreciation" and "Thanksgiving" and expressed her best wishes to all the teachers and the students associated with the school.
Then, there was a video show. The first part of the video was "Learning Summer" that concernedabouthow ourstudents participating and learning in different kinds of activities and competitions during the summer holiday. The second part was about the major theme of the year "Forgiveness", "Appreciation" and "Thanksgiving".
The ceremony ended after the show while our new school year begins. Here we wish all students a bright and fulfilling 2013-2014 school year.