15 October 2014
Student Union and Prefect Inauguration Ceremony
學生會及領袖生就職典禮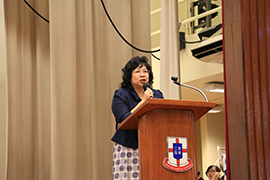 The School Prefect and Student Union Inauguration Ceremony was held in the assembly period on 15th October, 2014. The opening speech was delivered by our School Principal, Ms Tang Wai Chun, Agnes. Ms Tang complimented our students on their excellent behavior and the maturity displayed by the student voters in the Student Union Election. She also expressed her congratulations to the new Prefects and Student Union together with her hope that all of them would be capable of demonstrating the essential attributes of a good student leader. Ms Tang reminded the students that a good student leader should possesses positive values, a good sense of responsibility and enthusiasm to serve others.
After the speech, there was a badge presentation for the Student Union Members, House Captains and their Committee members and the Head Prefects, Vice Head Prefects and Prefects of the Departments.
Our school prefects come from the following departments:
a) Board of Studies
b) ECA, MI & Gifted Education
c) Student All-round Education
d) Guidance
e) Careers Guidance
f) Discipline
All of the student leaders will serve our school in designated areas of the school and their responsibilities will provide them with the training to demonstrate their team skills and showcase their leadership potential.
After presenting the badges to the prefects, the 2012-2013 former Chairperson of the Student Union delivered his vote of thanks to the students for their support. The new Chairperson then expressed her gratitude to the students and promised to fulfill the pledge she had solemnly made during the election.