20 May 2016
TWGHs S. C. Gaw Memorial College 31st Graduation Ceremony --- Officiating by Mr Alan Lo Ying Ki, JP, Kwai Tsing District Officer, Mr Law King Shing, MH, Chairman of Kwai Tsing District Council, Hon Alice Mak Mei Kuen, BBS, JP, Member of Legislative Council, HKSAR and Mr Lau Hing Wah, MH, Chairman of Kwai Tsing District Fight Crime Committee
東華三院吳祥川紀念中學第三十一屆畢業典禮 --- 葵青民政事務專員羅應祺太平紳士、葵青區議會主席羅競成議員 (榮譽勳章) 、立法會議員麥美娟太平紳士 (銅紫荊星章) 及葵青區撲滅罪行委員會主席劉興華先生 (榮譽勳章) 蒞臨主禮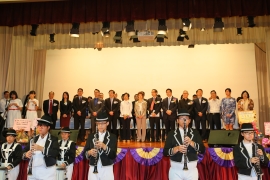 20 May 2016 was a splendid and glorious moment to S. C. Gaw Memorial College since it was the day for our 31st Graduation Ceremony. It was our great honour to have invited Mr Alan Lo Ying Ki, JP, Kwai Tsing District Officer, Mr Law King Shing, MH, Chairman of Kwai Tsing District Council, Hon Alice Mak Mei Kuen, BBS, JP, Member of Legislative Council, HKSAR and Mr Lau Hing Wah, MH, Chairman of Kwai Tsing District Fight Crime Committee as officiating guests and the coming of our School Donor, Mrs Rossana Gaw and other renowned community leaders and parents.
To encourage our Form 6 graduates to work harder and be well-equipped for the challenges in the future, our officiating guests delivered speeches with the objective to widen the horizons of our students towards the careers world. They shared their life experiences with the Form 6 graduates and all the speakers were so dedicated to building up the bright future of the students.
Then, there was the presentation of certificates, S6 academic and conduct awards as well as the presentation of Supervisor's Award for outstanding achievement to graduates.
Our Form 6 student representatives gave a vote of thanks to the guests, teachers and parents on behalf of the graduates. It is their hope that all the graduates should treasure the wonderful moments in their secondary school life and the friendships with their schoolmates. Even though they will be facing different hurdles in their life, it is vital to keep in mind that they should never give up.
Another climax came with our English Musical, High School Magical. All our performers and student helpers on the front stage and backstage got involved in the production. This brought much fun and relaxation to the audience. Our school has become a place for Language Arts and English to the students.
We really hope that our Form 6 graduates will be brave enough to encounter any challenges in the future and this graduation ceremony will be one of the most memorable episodes in their lifetime. The ceremony is also a showcase to the public our students are able to unleash their potentials to the fullest in all aspects in terms of aesthetic development, sports development, service learning, leadership enhancement, academic excellence, language proficiency and moral and civic education.