19 June 2016
Congratulations to our TWGHs S.C.Gaw Memorial College International Elite Latin Dance Team for achieving 101 International Individual and Team Awards in the Italian Open Championship from 18-19 June 2016
恭賀本校東華三院吳祥川紀念中學國際精英拉丁舞隊於2016年6月18-19日意大利公開賽榮獲101項國際個人及隊際獎項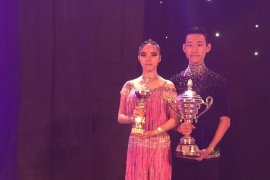 The Italian Open Championship was held on 18-19 June 2016 in Riccione, Italy. Dancing elites from Spain, Russia, England, Ukraine, Greece dancers met up in Riccione Hall to have the match.
It was an unforgettable experience for our school Latin Team dancers because they won a lot of prices including Formation Dance at the International Formation Dance Championship, as well as the 100 awards that comprise 32 Champions, 18 first Runners-up and 13 second Runners-up in the Italy Open Championship.
With the support from our benefactors, our school principal, teachers and coaches, our school provides lots of opportunities for our dancers with talents to participate in different local, national, and international competitions. Once again, let us express our gratitude to our supporters and congratulate our Latin Dance Team for their outstanding achievement!